Our first mini meet is right around the corner.  Next Thursday, November 6, skaters will be competing in various races against skaters that are similar in ability.  This is a great event for new and experienced skaters.  First races start at 5:00 pm.
Mini meets are not only a time for our kids to practice their skills but also a time for parent volunteers to learn their jobs so that when Fire on Ice comes, it runs smoothly.  Fire on Ice is our yearly sanctioned meet in which athletes from other clubs compete with our skaters. Fire on Ice is on Saturday, December 6.
We are going to try something new for signing up for jobs for Mini-meet #1. We have set up an online sign up for Mini Meet #1 using SignUp Genius. If it works well we will use it for Fire on Ice and the remaining Mini Meets.  
Press the button below to sign up!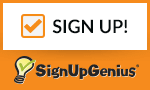 View the jobs that are required for the mini meet and sign up for one you would like to try!  There are always lots of "old timers" around to guide you.
We encourage parents to
set up a free account
rather than signing in as a guest user.  It is easy to set up an account and makes it easier for you to track and change anything if you need to!  Bookmark this site as we hope to use it again!
If you are unsure of what the jobs entail, please refer to the
Parent Manual
 that was sent out a few weeks ago.  It is also posted on this website.  If you are still unsure just ask someone who looks like they have been around a while!