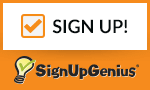 Please click the link above to sign up as a volunteer on Sunday, April 10 for our second annual Try Speed Skating event. We had great success last year with this, and are hoping to continue to build the club enrollment. Please spread the word as well. There is a poster you can use on the Try Speed Skating Information Page
Details:
Skate Fitting – 6:00 pm
Ice Time – 6:30 – 8:00 pm
SS3 athletes are responsible to help on ice with our new recruits!