Our first Mini Meet takes place on Thursday, November 3 from 5-8.  Please ask your coach for more information, they will let you know what races will be run.
Parents – we need your help.  Mini meets are great practice for the skaters, and they are also a great time for parents to learn the different volunteer position involved in a speed skating meet.  This will serve as practice for our upcoming invitational meet, Fire on Ice, happening on Saturday, December 3, 2016.
Please click the sign up button below to volunteer for the meet.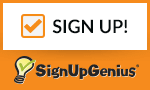 IMPORTANT! Also, a reminder to fill in the Meet Sign Up page for your skater so that our coaches and meet organizers know who to expect at the meet.  Thank you for doing that!